What video and audio devices can I connect to the Digital Decorating Kit projectors?
We wanted the Digital Decorating Kit and the Digital Decorating Kit Plus to connect to lots of different devices to expand your decorating abilities.
Laptops, Desktops, DVD Players, Tablets, you name it, there's probably a way to hook it up to your projector.
To figure out if your device is compatible, check out these three video input options, which are available on both models:
HDMI
Both versions of the Digital Decorating Kit feature an HDMI input and will work with any media device that uses HDMI.
With the right adapter cables, HDMI can connect to many other devices including phones and tablets.
If you are interested in connecting your device, try searching for your device model along with the words "HDMI adapter".
An HDMI cable is included in the Digital Decorating Kit Plus, but not with the Digital Decorating Kit.
Component Cables
The 3.5mm AV port on the projector can support both Component and Composite cables.
Component connections are common on many BluRay and DVD players. Component is a great way to transmit HD video, but does not carry an audio signal.
You'll need a "YPbPr" AKA "component" cable with a 3.5mm adapter, like this one: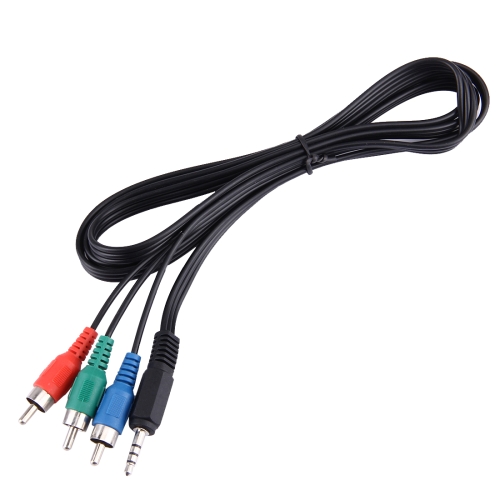 Using this connection can deliver a 720p HD image, but the audio will have to be connected separately using the separate audio output (more on that in a moment.)
Component cables and adapters are not included in either version of the Digital Decorating Kit.
Composite Cables

The AV port can also be used to connect a 3.5mm to "Composite" cable adapter, like this:




Composite cable delivers 480i SD video as well as audio.
Composite cables and adapters are not included in either version of the Digital Decorating Kit.
Audio Output
You can hook up audio devices like speakers or Bluetooth transmitters to your Media Player using the 3.5mm audio plug.
The projector does have a built in speaker, but you can use your own speakers to greatly enhance the effect of your digital decorating!
For more info about using the audio output, check out this knowledge base article about setting up outdoor audio!